---
How to Choose and Apply Mink Lashes?
---
Developed for film and popularized by the '60s Mod movement, faux lashes hit it big when supermodel Twiggy made them part of her trademark look. These days faux lashes are still super popular, but often abused or misused. Many makeup artists and consumers don't seem to comprehend that the primary goal of a faux lash is to make people think it's real, rather an exotic caterpillar taking up residence on your face.
With lashes, I prefer subtlety—something that allows me to make the eye look its best without looking obviously faux. Of course, there are times when you may want a more extreme look. But whether you want to accomplish an exaggerated, dramatic eye or just add on lashes for more volume, faux lashes take practice to master.
---
Four Basic Types of Lashes
Falsies come in three materials: human hair, animal hair, and synthetic fiber. (The latter was overlooked in the past, but the latest crop of synthetic lashes are completely believable.) There are four basic types of lashes available.
Strip
A standard, one-piece faux lash attached to a band that comes in a variety of lengths and styles.
Individual
Single faux lashes, attached separately; each mimics one individual hair.
"Clump" or "Cluster"
A small clump of individual lashes bound together, usually in a V shape, to give more volume.
Extensions
Individual tips that are applied to give the illusion of a real lash, but just longer.
Individual and clump lashes also come in both "knotted" and "knot-free" versions. Knotted lashes are bound by a knot, which creates more surface area for glue and makes them easier to attach; knot-free lashes don't have a knot joining them. As such, they are more difficult to apply, but also look more natural. Within all of these types, you'll find everything from undetectable, natural-looking bands to basic individual lashes to fantasy looks adorned with feathers or crystals. Lashes in other-worldly colors and exaggerated lengths or shapes are easy to find these days, too.
---
Three Faux Lash Ground Rules
Whether you want to apply a few individuals for subtle volume, add clumps on the outer lashes, or do  a complete set of full lashes for sexiness or drama, here are some ground rules for getting the most out of this gorgeous—but tricky—beauty regime.
1: Find Your Size
Fit and finish are important to the overall eye makeup design, as you don't want the lashes to overwhelm the face. So, first things first: make sure you select the appropriate style, size, length, and intensity for the eye shape that you're working with, as well as the overall look you're going for.
2: How Faux Can You Go?
One rule of thumb is to look at length and thickness. The longer the length or the closer the lashes are packed, the more likely it'll be obvious that your faux lashes are false.
3: Customize Your Eyes
Lashes can be cut into the right shape for any eye. I prefer to customize faux lashes by choosing several different shapes that fit my client. Then, I combine them in the application.
---
Application Tips, by Lash Shape
Here is a basic breakdown of the many shapes available so you can determine when, where, and why to choose a particular faux lash. This can also help you identify what you need to carry in your makeup kit.
Natural, Sparse, or Evenly Spaced

The lashes that might fall under these categories are an ideal option for adding fullness or featuring a natural look with a little more finish. A great trick to keep the look natural is to cut off the outer part of the lash and use the middle piece at the outer corner of the eye. The end of a faux lash can sometimes look much more exaggerated than the middle piece.
Spike

Spike lashes—those that are thicker at the base or sharp or pointy on the end and clumped together—can help you get a retro or vintage eye look. Spikes work equally well for period-inspired makeup (especially a '70s look) as they do when layered with individuals for a modern red carpet look.
Crisscross or X

Some types of eyes, like smaller eyes or shallow-lidded ones, can't carry several sets of lashes. If you want to add drama and extreme dimension without extra weight, a crisscrossed style lash, in which hairs overlap into an "X" shape, can be your best friend.
Swept, Angle, or "Hollywood"

For Old Hollywood excitement or to complement cat-like eyeliner, these shapes are seamless. They're an excellent addition to liquid liner and can really give leading-lady eyes to any ingénue.
Dense, Bulky, or Full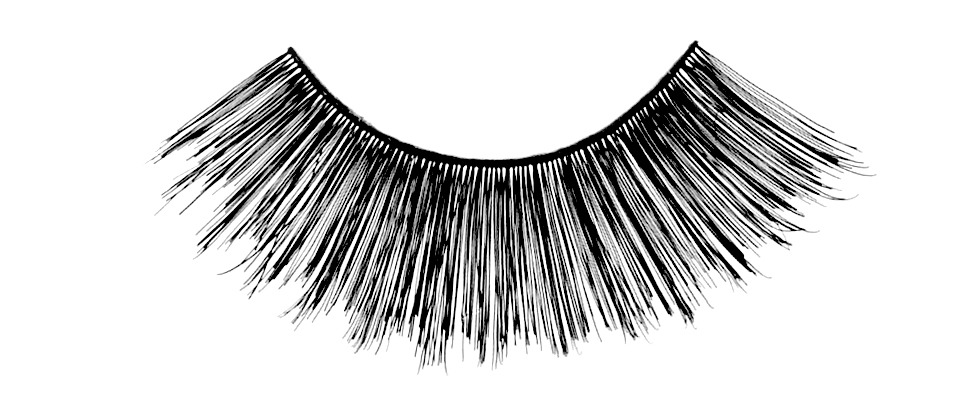 When you want drama that does not necessarily look natural, these lashes are for you. Whether you want to portray the aforementioned Twiggy look or a super-lashy look like those favored by Real Housewives and Kardashians, these lashes pack a punch.
Wisps

Wisps are bands comprised of faux lashes of different lengths, grouped together in varying layers and sections. It's a versatile shape that can be glamorous, elegant, or simply give a lift to a natural, romantic eye.
Clumps or Clusters

Sometimes you want to get detailed with your look. Whether you are wearing knotted or knot-free versions, clump lashes can be worn on their own or layered with a strip. Either way, they can make eyes appear more open and draw attention where you want it along the lid.
Individual

Single lashes are fantastic for a really natural look. I use a stronger glue and apply these below the actual lash to add length and volume. Even your closest friends won't notice.
I like to carry an assortment that allows me to achieve whatever comes my way—from a Florence and the Machine video to a morning television makeup job. For me, that means carrying a pack in my kit that includes knot-free individuals, spikes, and wisps in brown and black. I feel like if I always have these on hand, I can make them into anything I need. I also add lashes in for specific jobs if I deem it necessary. A music video might require something more fantastical, while a photo shoot might need something retro-inspired. Regardless of your work or looks, here's something I do know: faux lashes allow us to take ordinary makeup and make it extraordinary. That is most definitely true.
---
Contact  Information 
Email: chanellasheddoris@gmail.com
---
>>> 16mm Mink Lashes Wholesale Catalog>>> Review More Styles
>>> 20mm Mink Lashes Wholesale Catalog>>> Review More Styles
>>> 22mm Mink Lashes Wholesale Catalog>>> Review More Styles
>>> 25mm Mink Lashes Wholesale Catalog>>> Review More Styles
>>> Custom Tweezers >>>Review More Styles